Table of Contents
Installation

Scenario Steps

Clipboard

Comparison

Culture

Data Source

Date Time

Driver

E-mail

Excel

FTP

File

Flow Control

Folder

Format and Conversion

Keyboard

Loops

Math

Random

Regex

Screen

System

Text

User Interface

Windows Account Information

Expression Development

Embedded Development Environment

Voodoo Connect

Notification Center

Unified Console

Wrapper Libraries

Database

Troubleshooting

3rd Party Tool
How to Install Voodoo RPA
System Requirements
Desired minimum system requirements for VooDoo RPA setup:
CPU: 4 cores
RAM: 12 GB
Storage Space: 60 GB
Installation
1. Go to the Voodoo RPA Download website, and click Download. Double-click the downloaded file (.exe) to begin the installation.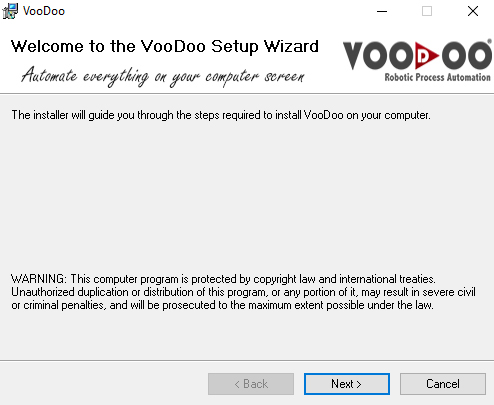 2. Click "Next" button from opening window. Then, select the file location or do not change the location to click "Browse" button. Sign the installation for everyone or just me option.
To sign in your voodoo account use your e-mail or username. If you forget your password you can reset your password using "Forgot Password" part of site. And, you will enter your e-mail to confirm your account.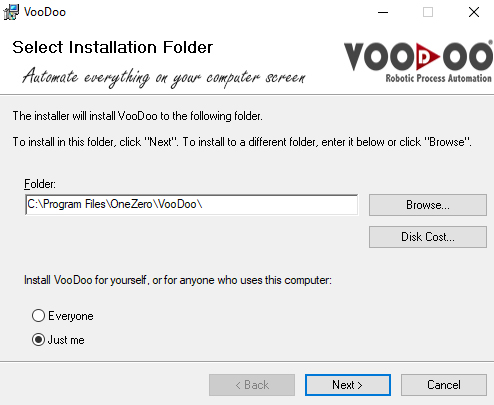 3. Click "Next" button from opening window. Select the Install the database option.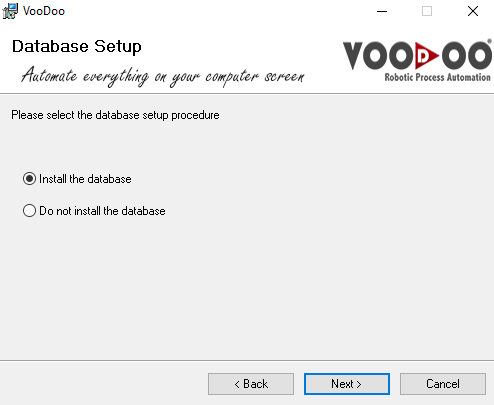 4. Start the installation of VooDoo to click next button after the setup options are defined. Please wait to complete VooDoo manager setup.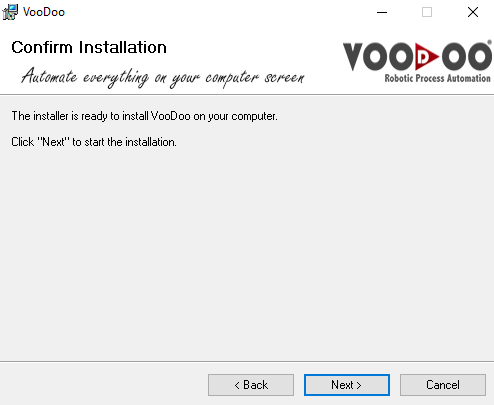 5. Complete the installation to click "Close" button.
Running
1. Go to Services from Start Menu of Windows, and right click to Voodoo Service and click "Properties".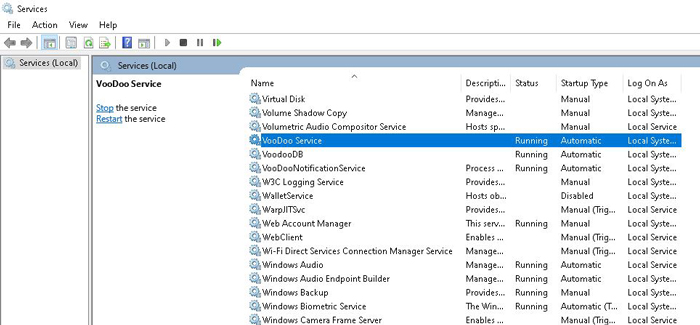 2. Go to "Recovery" tab on the opening screen. Select Restart Service for first and second failure situation. Change the value to 0 for reset fail count after option. Click "Apply" and then "OK" button and start or restart the Voodoo Service.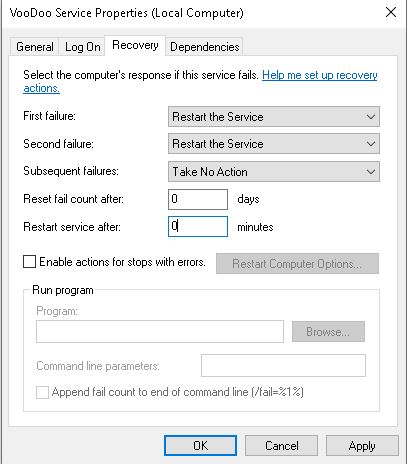 3. Complete the settings and then run the VooDoo Studio and VooDoo Robot. Login with username and password to VooDoo Studio Login Screen.

Now, you are ready to drive with VooDoo RPA.