Robotic Process Automation in Brief
Robotic Process Automation (RPA) performs tasks by mimicking human actions. It automates workflows. First, it performs repetitive, high-volume, and rule-based tasks. Many businesses fail to implement RPA properly and reap its benefits. One of the main reasons for this is that the processes cannot be determined correctly. To process a successful RPA process, you need to follow a roadmap.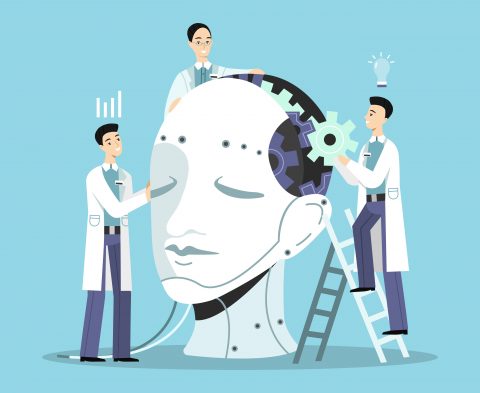 RPA Implementation Stages
Identifying Processes to Automate

Most businesses trying to scale RPA do not seem to optimize their business processes. It is essential to determine a good strategy before the PoC (Proof of Concept), and choosing the right business processes is the most critical stage of RPA. Once businesses understand what RPA can do, they must find business processes to automate. Specific strategies can be developed to select the right processes. Criteria such as the complexity of the business process and return on investment should be considered. All departments and workflows are evaluated, and the right processes are determined.

Below are some essential criteria for determining business processes:

Transactions that will take place without human intervention
Routinely performed tasks
Compliance with the components and sub-components of the determining process of digitalization
Work that needs to be done without any errors
Workflow consists of rules

Introduce Automation to Your Staff

Employees should be informed about RPA, its necessity, and benefits such as return on investment should be mentioned. Sometimes employees may not want automation. Employees may be informed that their jobs will not be replaced in such cases. On the contrary, the number of employees who welcome RPA is higher than those who do not. According to one study, only 17% of companies working with RPA encountered employee resistance.

Information Technologies Team

Some companies complete the PoC with their own IT teams. For a team to successfully implement RPA, it must go through training and certification processes, which are different procedures in each RPA company. In this context, creating a solid team in RPA will enable operations to run more efficiently while developing new processes will be faster.

Business Analysis

After the business processes to be automated are determined, a general meeting is held, and a business analysis is made. In the meeting, the employees who have done this job until this time will transfer the process to the job analysis in detail. The details of the process are conveyed step-by-step to the developer. You can find our article for more detailed information about RPA Business Analysis.

Development Process

Development begins according to the business processes determined for RPA, the most extended phase of RPA implementation. Businesses can develop their business processes themselves, or they can be performed by the RPA company, depending on the trust in their IT teams. If all processes are suitable for RPA, the development process will be shorter, while if not, non-compliant processes should be optimized or redesigned.

Test Process

After the development process is completed, tests are performed to monitor potential errors and performance and prevent unforeseen difficulties. If an error occurs during testing, the development process continues. Live testing can be done with the supervision of the team responsible for the process before going live wholly.

Go Live - UAT (User Acceptance Testing)

After solving the errors during the test, the robot is ready to work full-time in a live environment.

Support

RPA support specialists work on-site or remotely to make any critical issues or improvements.

Scale RPA with VooDoo RPA

With VooDoo RPA, business processes suitable for automation are determined, or improvements are made to make them ready for automation. Determining business processes are examined step by step in a meeting held by the business analyst and employees. The RPA developer can then automate the process. The process, which passed the test phase successfully, is completed by giving the necessary training to the customer by taking it to the last live.

Employees in the company increase their productivity by working interactively with the software robot. While it is possible to develop a process in interaction with VooDoo RPA business analyst, developer, and support staff, it is also possible to establish your Information Technologies team. With the basic and advanced training given to the staff responsible for RPA in your group, the employees with the RPA developer certificate will now be able to develop their business processes.
Build Your Center of Excellence (CoE) to Implement RPA
What is a Center of Excellence (CoE)?
CoE is the way to apply RPA to a workplace fully. It is a long-term capability that enables more strategic development and the creation of efficient workflows. For its implementation, people from different disciplines need to come together. It is an important step that must be implemented for humans and robots to work interactively together.
Why should you implement a Center of Excellence?
The centralized structure provided by the CoE is necessary to use and develop RPA more effectively. Most organizations begin to lay the groundwork for CoE after trying RPA and measuring what it can do before CoE, and scale it up over time.
When working with an RPA provider, the use of RPA tools, the selection of processes to be automated, etc., are realized by the staff of that RPA company. Implementing CoE means learning all these things from scratch. However, with a CoE, accessing all necessary information about business processes can be more accessible. Processes are faster, business analysis is made more manageable, and development is started.
While the Information Technologies team is better at managing simple automation, the same efficiency cannot be achieved in more complex automation. In this case, not only the IT department but also a well-designed CoE and IT team working together ensures the bots run smoothly.
Without a CoE team, the cost of automation will decrease in the long run as it will be more costly to hire external consultants for process design, architecture, development, and project management.
How to Create a Center of Excellence?
Creating a CoE requires more than the IT team. Following are the positions needed to form a CoE team:
RPA Change Manager: Required to ensure that RPA is easy to implement for the organization.
RPA Business Analyst: Creates process definitions and maps by examining the business process in detail.
RPA Developer: The RPA developer provides the development, testing, and implementation of the RPA solution.
RPA Service Support: Responsible for infrastructure support to fix any possible problems.
After building your team, determining a suitable management model becomes the roadmap for the automation transformation process. The management model is essential to manage change and optimize risk effectively. This model enables decisions to be taken quickly and effectively. Working with your CoE leaders, you should define the CoE's goals and implementation strategy. Business benefits must be identified, evaluated, and prioritized. Additionally, it should have a robust technology infrastructure and RPA platform. Once all these have been selected, the bots should be deployed correctly.
Most organizations start implementing RPA with the hope of winning soon. However, applying for long-term positioning and return on investment is more important. Step-by-step requirements for this app:
Plan for many projects and workflows, but start with one project first. Give your CoE an initial business project. Use this project as the basis for future large-scale work.
Observe well throughout the process, examining what works well and what could be better.
Build a good team for technical and technological troubles. Good technology infrastructure is necessary for a CoE to achieve its RPA goals.
Wait for the time study model to develop and settle
Increase business processes as time progresses and aim to automate the end-to-end work in your organization.
RPA is an essential step in the digitization of your organization. There are specific options to implement this. Your RPA vendor can handle this whole process for you, or you can work with your trained IT department and RPA vendor in a supported manner. Establishing a center of excellence can make things more accessible and create your team. Managing change is not easy and takes time. Creating better results with a good team and management model is possible.
Dasagrandhi, C. S. (n.d.). A step-by-step process for RPA implementation. Blog. Retrieved August 10, 2022, from https://blog.vsoftconsulting.com/blog/a-step-by-step-process-for-rpa-implementation
Get in touch Anthony Abbattista Analytics and Edge-AI Leader aabbattista@deloitte.com . (2020, November 9). Robotic Process Automation (RPA) trends and scaling best practices: Deloitte us. Deloitte United States. Retrieved August 10, 2022, from https://www2.deloitte.com/us/en/pages/operations/articles/global-robotic-process-automation-report.html
Guide to a successful RPA implementation in 2020. Maruti Techlabs. (2022, May 9). Retrieved August 10, 2022, from https://marutitech.com/successful-rpa-implementation/
Key steps to achieve successful RPA implementation. Zenesys. (n.d.). Retrieved August 10, 2022, from https://www.zenesys.com/blog/key-steps-to-achieve-successful-rpa-implementation
Kosmopoulos, C. (n.d.). 7 secrets to Scaling Robotic Process Automation (RPA). Business Process Management & Analysis Platform. Retrieved August 10, 2022, from https://www.blueprintsys.com/blog/rpa/secrets-to-scaling-rpa
PRP Business Solutions. (n.d.). How is robotic process automation (RPA) implemented? RPA roadmap. PRP Business Solutions. Retrieved August 10, 2022, from https://prpbs.com/en/articles/rpa-implementation.html
Top 5 principles guiding the Modern RPA Center of Excellence (COE). CiGen. (2021, March 9). Retrieved August 10, 2022, from https://www.cigen.com.au/top-5-principles-guiding-the-modern-rpa-center-of-excellence-coe/