What is RPA? 
Robotic Process Automation is a software robot that automates time-consuming business processes. Using RPA robots, they can send emails, extract data from excel files, process this data, and log in to applications. The robot ranges from responding to an email to the task of automating work in the ERP system.
Which industries can use robotic process automation?
A business using Robotic Process Automation can automate its processes by delivering almost all time-consuming workflows to the robot. RPA robots, which reduce the risks of human error to nearly zero, can be used for industries of all sizes. Although some sectors benefit more from Robotic Process Automation, the use of RPA is increasing in almost every industry.
The Banking and Finance sector is one of the first to use Robotic Process Automation. Nowadays, RPA is also taking place in sectors such as manufacturing, industry, transportation, health, technology, telecommunications, public, and e-commerce.
Usage Areas of RPA in the Banking and Finance Sector
When considering the usage areas of RPA, the banking and finance sector is one of the first to come to mind. RPA in the banking industry automates repetitive manual processes while allowing employees to spend time on more critical tasks. Integration of RPA with artificial intelligence creates intelligent automation and will enable RPA to handle complex operations. In addition, the most important reasons for preferring RPA are that it requires less code and infrastructure.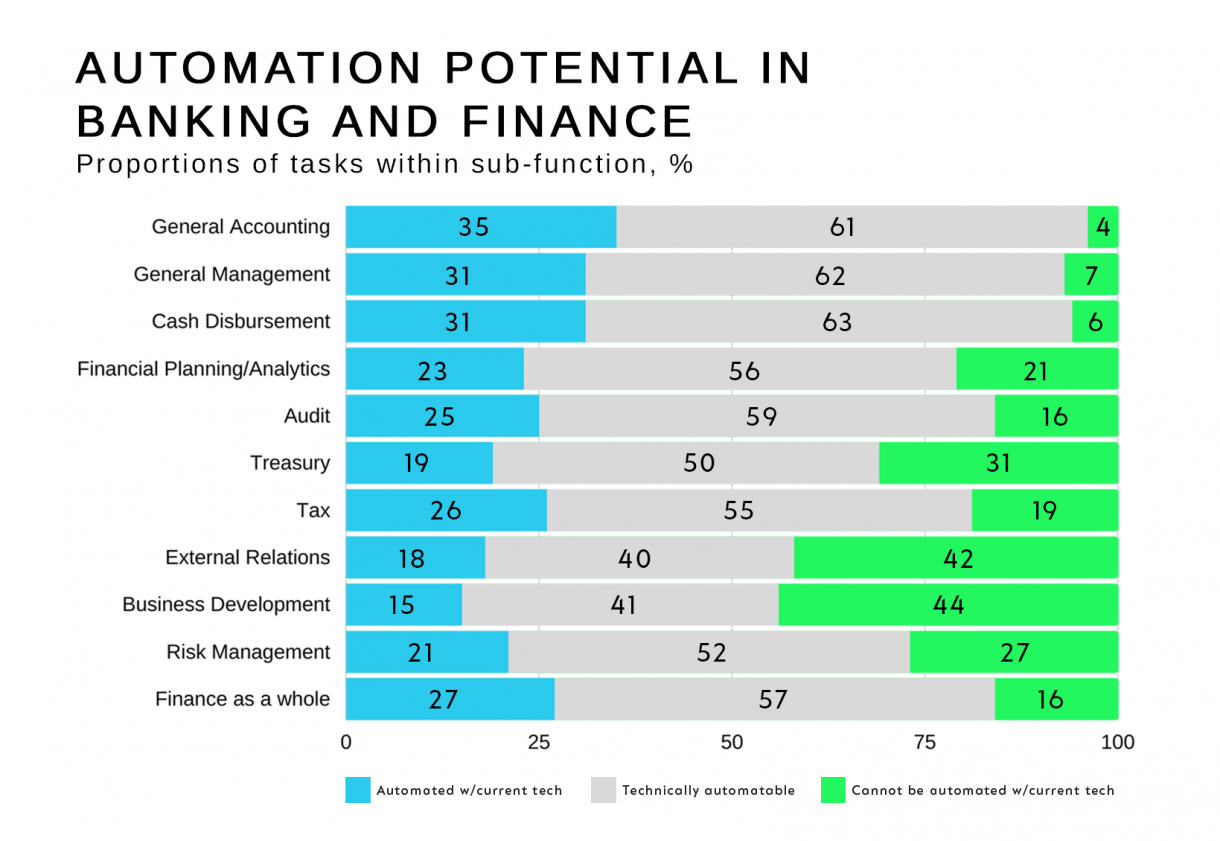 According to McKinsey's research, the automation rate of the banking and finance sector jobs with today's technology is shown in blue, the situations where automation is possible are shown in gray, and the jobs that cannot be automated are shown in green. According to this chart, accounting and finance have great potential for automation.
Creating a Report
RPA robots can produce reports that present the performance of organizations, such as monthly closing, reconciliation, and management reports, which consist of large amounts of data without errors, and in a short time. Additionally, generating a compliance report for Suspicious Activity Reports (SAR) is a regular task. This requires an employee to read and complete all information in SAR format, which is very time-consuming and error-prone. Robotic Process Automation can extract the necessary data by reading these long documents.
New Customer Registration
New customer engagement is a complex process for customers and employees as it involves collecting and verifying data. Every interaction with the customer can leave a good or bad impression on the customer. The more professional and fast these processes progress, the more satisfied the customer will be. According to research, it takes 1-3 weeks for a new customer to join. The benefit of RPA is that it can speed up this process by 30-40% and reduce costs by 25-40%.
KYC (Know Your Customer) is the process of determining the accuracy of your customer's identity and necessary documents. It is a process required to prevent financial crimes that may occur. RPA bots can extract data in KYC with OCR (Optical Character Reading), which reduces the possibility of errors.
Mortgage Process
The mortgage process is also a time-consuming, tedious and multi-step process. Procedures such as credit check, payment history, job approval, and property processing are necessary to check the borrower's ability to repay the loan. An error that may occur during this process can further slow the process and harm the company. RPA simplifies the mortgage process by performing data entry, extraction, and reporting. When any information is missing, the RPA bot can notify the person concerned by email.
Credit Process
The loan process is long and tiring for both the employee and the customer. Robotic Process Automation can process many documents in a concise time, thus increasing customer satisfaction. The steps in the loan processing process are described below:
• Collection of data from the customer
• Consistency of extracted data thanks to RPA bots.
• Analysis before the loan is granted.
• Regularity of one-time payments, monthly income, etc., to measure the customer's eligibility for borrowing. 
The loan amount is determined by examining the borrower's creditworthiness. RPA extracts the necessary data from the documents, creates a table, and facilitates the process by presenting cash flows in an excel file.
The verification process may differ according to different institution policies. According to this policy, for some organizations, the RPA bot may contact the customer and request detailed information for verification.
The desired data is read using OCR (Optical Character Recognition) and artificial intelligence in this context. APIs trained by different document types then validate this data. Errors encountered during document validation can be sent as alerts by email.
Fraud Detection
With today's developing technology, fraud has started to become widespread day by day. For corporate finance and banking, security is always an issue. Robotic Process Automation is one of the best solutions for fraud detection. At any suspicious moment, the bot can notify the relevant person. A warning can be received when the limit is reached by setting a specific spending limit. RPA bots can detect fraud by tracking accounts and credit cards and sending a warning to the user.
Additionally, security teams can use RPA robots to identify inconsistencies by accessing customer databases and other records in case of a problem. RPA does this using 'if-then' methods. For example, in a money transfer made many times in a short time, RPA identifies this transaction as suspicious.
Robotic Process Automation in Retailing and E-commerce
With the growth of the e-commerce and retailing sector, the need for automation is also increasing. Communication with customers and customer satisfaction is essential for e-commerce companies. According to a study by Statista.com, the following factors affect a customer's repeat purchase from the same platform.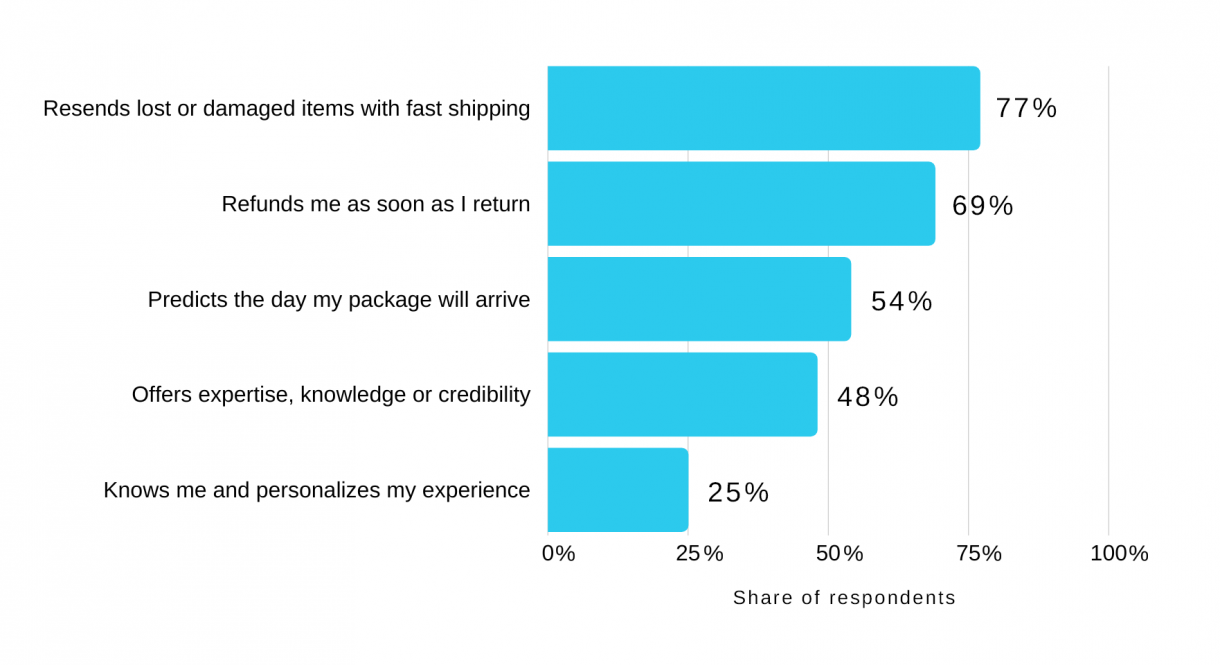 Quickly return damaged or lost products.

Refund of the product to be returned as soon as possible. 

Estimating the day the cargo will be delivered. 

To provide information and credibility.
Content Creation
Content creation in e-commerce is vital in terms of informing the customer about the product. According to research, 98% of customers who cannot find enough content about the product give up on completing their shopping. Robotic Process Automation can create content for your products and works with Content Management Systems (CMS) that collect information on different topics. The content creation process can be significantly automated, as RPA is advanced at retrieving data and entering it in the right places. The following image shows the uses of robotic process automation in content creation.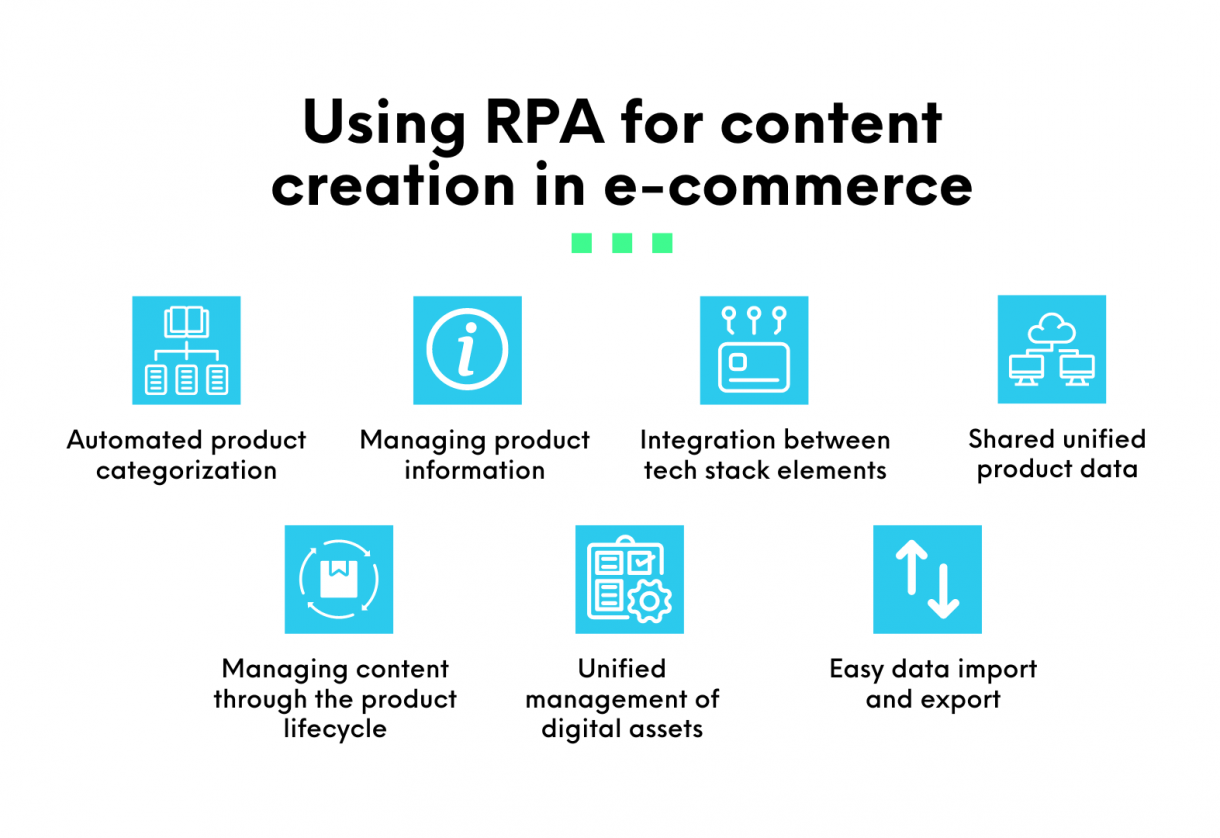 It is repetitive, time-consuming, and error-prone to keep products up to date with accurate information and add new product lists on large e-commerce sites. For this, businesses may need to have content experts. RPA bots can pull data from designated points and enter the correct areas. This dramatically simplifies the process.
Stock Management
Stock management is a routine task for an e-commerce store; the inventory database must be constantly updated. Some inventory management systems have programmed store-collected data to be processed at the end of each day to keep their database up to date. Robotic Process Automation saves time in the stock management process and dramatically increases customer satisfaction. It prevents the risk of being out of stock, and identifies the products that are not sold and are less likely to be sold in the future, called dead stock. These products can be identified and removed from stock with RPA. As an example, Walmart uses over 500 RPAs and bots from different technologies to track inventory flow and identify dead stocks. In addition, RPA can also notify employees of out-of-stock products and order these products.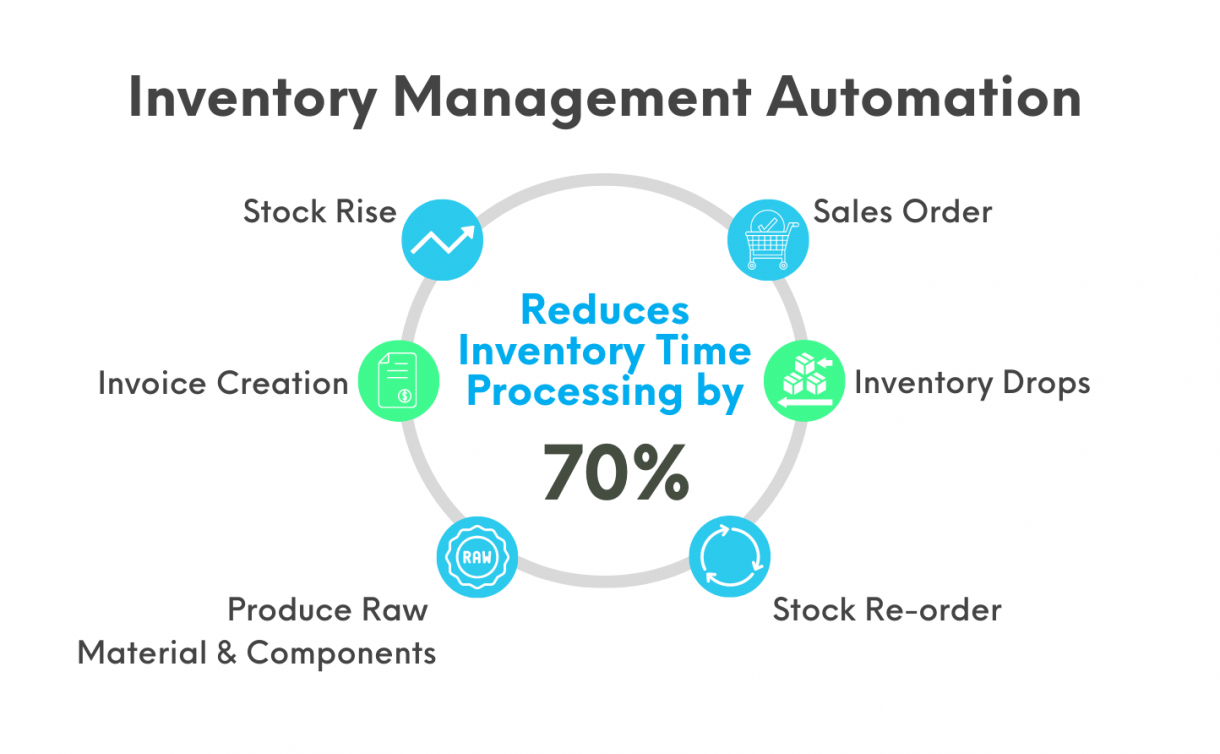 Product Categorization
It is important that the customer can filter the product they are looking for while shopping in an e-commerce store. Robotic Process Automation can automatically detect and categorize products with shape, color, size, and pattern options.
Returns Transaction
With the rapid and smooth progress of the return process, the customer's repayment in a short time increases customer satisfaction and creates a professional image. This process can be a challenge for a company in terms of inventory management and cost. There are specific repetitive tasks during this process. These:
• An information message stating that the return has been received.
• Updating the stock process
• Reimbursement to the customer
• Informing the customer about the refund process
• Updating the billing process.
Logistics Management Process
Shipping, inventory tracking, order tracking, customer support, etc. in the logistics management process. There are so many business processes that need attention. The business process to run regularly, it is necessary to monitor the inventory and product shipment and ensure communication between customers, suppliers, and distributors. Communication can be achieved by the robot sending an email. A Robotic Process Automation robot automates all these processes, ensuring zero error risk.
ERP Management
ERP can also be defined as business management. It is enterprise resource planning; it provides end-to-end management of business resources, and it needs various hardware to do this. An e-commerce company includes activities such as billing, liabilities, and price change. Using RPA of an ERP system enables time-consuming projects to be done with less cost and workforce. For example, when using ERP for the supply chain, a process needs human interaction to finish or reach a conclusion, while intelligent RPA bots automate this process entirely.
Customer Support
With Robotic Process Automation, you can keep in touch with your customers 24/7, answer their questions, and evaluate their supply and demands. Intelligent virtual assistants (IVA) or chatbots can learn customers' order status and answer their questions through RPA. Therefore, a chatbot transmits customer feedback to RPA bots. RPA bots can send notifications to employees based on the feedback they receive from their customers. It ensures you do not lose contact with the customer during the entire shipment.
Some Examples and Benefits in the E-commerce and Retail Industry
The necessity of Robotic Process Automation in the e-commerce and retail sector is evident. When we look at some of the crucial uses of RPA in the e-commerce sector, we can first call it chatbots. Chatbots are robots that can be very useful when used with functions we frequently encounter on most websites. Robotic Process Automation is needed to obtain a more functional chatbot in the e-commerce industry. For instance, when a customer requests an order, the chatbot sends the request to the RPA bot, generating a response. Robotic Process Automation also works in the back office. The most common uses are given below:
• Invoice creation and processing
• Answering customer supply, demand, and questions via chatbots
• Sending emails in constant communication between the customer and the supplier.
• Efficient inventory management
• Access to detailed data
In another example of customer satisfaction, businesses can provide specific campaigns or discount coupons to their customers who are permanently or in any way dissatisfied. RPA bots can group customers according to the product they buy, identify customers who exceed a specific limit, and send discount codes via email and SMS.
Robotic Process Automation in the Healthcare Industry
Robotic Process Automation in healthcare services performs tasks that require a lot of paperwork and reporting with little cost and effort. Some of the processes that RPA carries out in the health sector:
• Patient admission
• Demand management
• Medical billing
• Report generation
• Recipe management
It facilitates the workflow by performing repetitive and time-consuming tasks in a short time in all health institutions. While RPA performs tedious back-office tasks, healthcare professionals are freed from routine tasks and have time for the doctor to interact with the patient.
Patient Appointment Process
With RPA, patients can schedule their appointments and get appointments faster. When a patient makes an appointment, one of the first things to think about is, "How long does it take to meet the patient's needs?" should be. Otherwise, while the doctor is dealing with a big case, dealing with the patient whose appointment time has come will not be possible. A great effort and team are needed to do this appointment management. RPA bots can automate this entire process. By collecting the necessary data from the patient, he will determine a suitable appointment with the help of this data and the doctor's appointment calendar. In case the doctor or the patient cancels an appointment, it can update the appointment calendar and provide the necessary information to both parties.
Records Management
Patient or medical records can be difficult for hospitals. These records require strict precautions and reporting and are very prone to error. RPA performs data entry and consistency checks for registration. As a result, hospital personnel can reach sought-after data within seconds.
Administrative Data Entry
Preparing the invoices of all the patients coming to a large health center and entering them into the system is very error-prone, and a large team is needed for this. Using RPA, Natural Language Processing (NLP), and speech and image recognition technologies, it can transform the data it receives into structured data, which is then saved in the database. Financial inconsistencies that will occur at the end of the month will decrease as there will be fewer errors. Baylor Scott & White Health (BSWH), which provides services to 52 hospitals in the USA, started to implement a price estimation tool using RPA and Artificial intelligence. Predicting the price in the health sector is more complex than in other sectors. Intelligent bots can make up to 70% of predictions.
Processing of Claims
In demand management, processing and evaluating data and documents after they are entered is an iterative task. Using RPA for these processes minimizes human intervention and possible errors.
Things to consider when implementing RPA in the Health Sector
It is essential to analyze the business processes correctly in adopting Robotic Process Automation in the Health sector. Information Technology (IT) infrastructure should not be ignored. Business process analysis alone causes many problems. Engaging with a good RPA solution provider will keep your process running smoothly.
It can have Robotic Process Automation, Artificial intelligence, Natural Language Processing, and Image Processing capabilities. Understand documents containing unstructured data (handwriting, PDF file, video, medical images, reports, invoices, etc.). Discussing these capabilities with the seller according to the processes is essential.
The Future of RPA in the Healthcare Industry
With the rapid development of technology, RPA is one of the fastest-growing automation. According to Gartner, healthcare services using RPA in 2023 will increase by 50% compared to 2020. In addition, this automation will predict patient needs, and required intervention before the patient's condition worsens with their Artificial intelligence capabilities.
Robotic Process Automation in Logistics
According to the World Economic Forum and Accenture, the transformation of the logistics industry to technology by 2025 will result in a value of $1.5 trillion. While RPA speeds up transactions ten times, it reduces costs, provides easy workflow, and increases customer satisfaction, allowing you to stay ahead of your rival.
Shipment Management
The order management process can be difficult to do directly with ERP. RPA simplifies this process. It extracts necessary data from RPA excel files or emails. It can combine and associate these data with smart automation. Respectively, the delivery process takes place flawlessly.
Order and Inventory Management
An RPA bot can track inventory levels, and order from a supplier when the stock level drops below a certain An RPA bot can track inventory levels and order from a supplier when the stock level drops below a certain number. Automating this process eliminates the loss of sales due to stock shortages.
Invoice Processing
The invoicing process, a challenge for most companies, is straightforward with RPA. RPA can work integrated with many systems. You can add data to invoices with cut and paste. The whole process can take place in a few seconds.
After Sales Tracking
Customer requests and questions can be realized 24/7 with chatbots. An innovative RPA software can read the documents' data and give the customer the necessary information. A customer who wants to make a return can contact the customer and request documents such as invoices and check the accuracy of these documents. Also, it can predict information such as the arrival time and location of the return with its artificial intelligence capability.
Robotic Process Automation in Human Resources
According to research conducted by PwC in 2020, 45% of Human Resources plan to invest in hyper-automation and RPA within two years.
As seen in most sectors, Human Resources cannot spare time to do the tasks that are supposed to be done while doing the repetitive and tedious tasks. RPA technology takes on all these repetitive tasks and enables the HR department to use their time efficiently. This process can increase the productivity of HR employees and provide performance management. In today's rival environment, it can develop the brand and do human analytics to stay in the market.
Recruitment process
The new recruitment process in Human Resources consists of tasks such as creating a new user account, opening an email, and accessing the necessary files. RPA bots can process the incoming data by collecting the required documents for the new hire. OCR and Natural Language Processing are technologies used in the recruitment process.
Employee exit process
RPA can perform tasks during the employee exit process; Collecting exit documents, making necessary payments, informing the right people, etc.
RPA examples from the Human Resources Department
Before using RPA, a Swiss insurance company sped up their 60-hour work with six employees by 85% with RPA, and the error rate dropped to zero.
While it took half an hour for another Information Technologies company to complete the recruitment forms, this process accelerated by 90% with RPA.
Robotic Process Automation in the Manufacturing Industry
Production companies communicate with the customer, payment, report generation, etc. RPA is a necessary technology in this industry for complex, time-consuming, and rule-based tasks. According to research, operational costs are reduced by up to 40%, processes are more consistent and reliable, and staff is focused on more productive tasks.
Creating an order
Manual order management can be challenging for corporate companies with a large variety of products. Data retrieval is based on rule-based workflows such as requesting email confirmation and processing requests. It can cover the entire process from order receipt to delivery.
Invoice Processing
It is necessary to extract the data required for invoice processing; this is possible with OCR. Unstructured extracted data turns into a structured format. Additionally, invoice records are updated in the ERP system.
Material List
All the materials needed to manufacture a product from the material list. Keeping the bill of materials up to date, one of the essential things in the manufacturing industry is time-consuming. It accepts no mistakes and stock levels are very important. An RPA robot can create a list by obtaining the information on the raw materials required for the product with OCR. It can provide the necessary information as soon as the stock levels fall below a certain amount.
Data management
Financial Data such as stock levels are mentioned in the invoice of materials and many other data. This data should always be up to date, and unstructured data should be processed via OCR. Furthermore, ERP systems should be updated with structured data.
Summary
Since robotic processes are software that automatizes businesses' repetitive and regular work, many more processes can be robotized apart from the processes described in this article. The important thing is to extract the process flows in a business and identify the virtual applications that can be used for this. Many different processes can be developed under just one BOM process. RPA's ability to complete processes that might take hours in minutes dramatically increases a company's efficiency, and many processes can be automated with sound business analysis. In consequence, starting by thinking about what might happen in your processes is recommended.
REFERENCES
10 crucial ways to apply Robotic Process Automation (RPA) in retail. IBM. (n.d.). Retrieved June 20, 2022, from https://www.ibm.com/cloud/blog/10-crucial-ways-to-apply-robotic-process-automation-rpa-in-retail
8 real-world cases of Robotic Process Automation (RPA) in transportation and Logistics. CiGen. (2019, April 9). Retrieved June 20, 2022, from https://www.cigen.com.au/8-real-world-cases-rpa-transportation-logistics/
Amazing ways that RPA can be used in Healthcare. IBM. (n.d.). Retrieved June 20, 2022, from https://www.ibm.com/cloud/blog/amazing-ways-that-rpa-can-be-used-in-healthcare#:~:text=Benefits%20of%20RPA%20in%20healthcare&text=Healthcare%20leaders%20can%20implement%20RPA,the%20automation%20of%20mundane%20tasks.
Andruszkiewicz, D. (2021, October 29). Inventory management in retail with RPA, use cases, and benefits. Inventory Management in Retail with RPA, Use Cases and… Retrieved June 20, 2022, from https://ggsitc.com/blog/inventory-management-in-retail-with-rpa-use-cases-and-benefits
Andruszkiewicz, D. (2021, September 8). Which industries can use robotic process automation. Retrieved June 20, 2022, from https://ggsitc.com/blog/industries-that-can-benefit-from-rpa
Boulton, C., & Writer, S. (2018, September 3). What is RPA? A revolution in business process automation. CIO. Retrieved June 20, 2022, from https://www.cio.com/article/227908/what-is-rpa-robotic-process-automation-explained.html
Gartner says 50% of U.S. healthcare providers will invest in RPA in the next three years. Gartner. (n.d.). Retrieved June 20, 2022, from https://www.gartner.com/en/newsroom/press-releases/2020-05-21-gartner-says-50-percent-of-us-healthcare-providers-will-invest-in-rpa-in-the-next-three-years#
RPA in Finance and banking: Use cases and expert advice on implementation. ITRex. (2022, April 11). Retrieved June 20, 2022, from https://itrexgroup.com/blog/rpa-in-finance-banking-use-cases-implementation-expert-advice/#
RPA in Healthcare: the key to scaling operational efficiency. Maruti Techlabs. (2020, March 25). Retrieved June 20, 2022, from https://marutitech.com/rpa-in-healthcare/
Sheth, R. (2020, October 14). Automated Loan Processing: Benefits of loan processing automation and how it works? Docsumo. Retrieved June 20, 2022, from https://docsumo.com/blog/loan-processing-automation
Sheth, R. (2020, October 14). Benefits of robotic processing automation in mortgage lending [guide]. Docsumo. Retrieved June 20, 2022, from https://docsumo.com/blog/rpa-mortgage
Top 11 use cases of RPA in retail. Maruti Techlabs. (2022, May 6). Retrieved June 20, 2022, from https://marutitech.com/rpa-in-retail/
Top 8 use cases & benefits of RPA in manufacturing. AIMultiple. (n.d.). Retrieved June 20, 2022, from https://research.aimultiple.com/rpa-manufacturing/