Welcome to the intersection of technology and Human Resources, where innovative solutions are reshaping the way HR professionals tackle everyday challenges.
Picture a world where repetitive HR tasks are automated, freeing up valuable time for more strategic endeavors. What a wonderful world!
This is where Robotic Process Automation (RPA) steps in, offering a potential game-changer for Human Resources departments worldwide.
In this blog post, we embark on a journey to explore the role of RPA in Human Resources. What exactly is RPA, and how does it fit into the HR landscape? How can software bots take on mundane operations and improve overall efficiency? 
Join us as we uncover the insights and possibilities that come with automating HR processes through RPA. Discover how this dynamic synergy is not only streamlining operations but also paving the way for a more strategic and impactful Human Resources function.
What is Robotic Process Automation?
Robotic Process Automation refers to the use of software bots or virtual assistants to automate repetitive and rule-based tasks typically performed by humans. These bots mimic human actions, interacting with various systems and applications to perform tasks with speed, accuracy, and consistency. RPA is designed to handle mundane and time-consuming activities, allowing human employees to focus on higher-value tasks that require creativity, critical thinking, and decision-making.
Unlike traditional automation approaches, RPA does not require complex programming or system integration. Instead, it operates at the user interface (UI) level, interacting with applications and systems in the same way as humans do. RPA can be applied to a wide range of processes, from simple data entry and reconciliation tasks to complex financial calculations and compliance reporting.
How RPA Can Benefit Human Resources Departments?
Incorporating RPA into Human Resources operations offers numerous advantages that streamline processes, enhance efficiency, and elevate the overall HR experience for both employees and employers. By automating repetitive and time-consuming tasks, RPA empowers HR professionals to focus on more strategic and value-added initiatives, ultimately fostering a more productive and agile HR department.
Some Key Benefits of RPA for HR Departments:
Incorporating RPA into HR operations can revolutionize traditional processes, unlocking greater efficiency, accuracy, and productivity. By leveraging automation technology, HR departments can shift their focus from manual administrative tasks to more strategic initiatives, driving organizational success while improving the employee experience.
12 Common Use Cases of RPA in HR Department
In this section, we will explore specific use cases where RPA can significantly enhance HR operations. From CV screening and onboarding new hires to payroll processing and compliance management, we will delve into the practical applications of RPA that can optimize HR processes and elevate overall efficiency.
RPA Statistics in Human Resources
Here are the top 10 HR challenges faced today:
What are the biggest challenges your organization is facing in relation to human capital?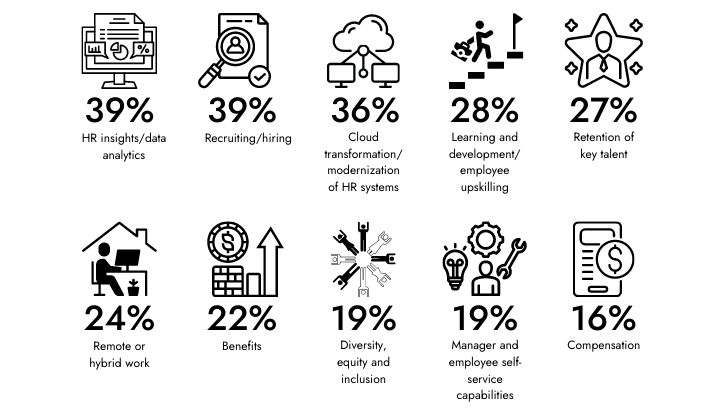 Source: PwC HR Tech Survey 2022: base of 688
When considering the future of HR, a notable trend that is projected to gather considerable speed is the growing embrace of intelligent automation. According to research conducted by Deloitte, the implementation of intelligent automation is predicted to result in a 10-15% surge in productivity within HR operations by the year 2023.
HR management is vital for everyday organizational tasks, like hiring and training staff, assessing their performance, and complying with labor laws. Handling and processing a vast amount of employee data manually is not feasible. Automation becomes essential for the HR team to effectively manage the complete employee lifecycle and these processes efficiently.
Make HR More Human-Centric with RPA
The integration of Robotic Process Automation in HR operations presents an opportunity to shift towards a more human-centric approach. By leveraging RPA technology, HR departments can streamline their processes and create space for HR professionals to focus on meaningful initiatives. 
With RPA handling administrative tasks, HR professionals can dedicate their time to building stronger relationships with employees, understanding their needs, and fostering a positive work environment. This shift towards a human-centric approach ensures that HR professionals can deliver personalized support, address employee concerns, and create an environment that fosters engagement and productivity.
Simply put, RPA technology plays a crucial role in automating various HR processes, starting from candidate sourcing and recruitment to payroll processing. By automating repetitive and administrative tasks, HR professionals can focus more on strategic workforce planning and employee development. Furthermore, RPA can assist HR departments in reducing errors, saving costs, improving employee experiences, and streamlining HR operations.
As automation technologies continue to evolve, the widespread adoption of RPA in Human Resources is anticipated, leading to a more efficient and human-centric system.
If you're interested in experiencing the benefits of RPA in Human Resources or any other sector, you may want to explore VooDoo RPA. 
Our user-friendly platform allows you to easily automate repetitive and time-consuming tasks, freeing up more time for high-priority activities.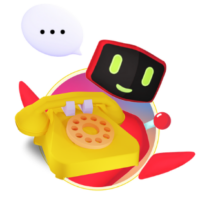 With VooDoo RPA, you can create custom workflows, integrate with other software and applications, and enjoy 24/7 availability.
Check out our product page.
Feel free to contact us with any questions you may have.