What is Robotic Process Automation?
Robotic Process Automation (RPA) is a technology that has been revolutionizing various industries, providing organizations with efficient and cost-effective solutions for repetitive and time-consuming tasks. RPA involves using software robots or bots that can be programmed to mimic human actions and automate processes, reducing the need for manual intervention.
Why is RPA Important for Healthcare?
Robotic Process Automation (RPA) is becoming increasingly important for the healthcare industry due to its ability to automate repetitive and manual tasks. RPA technology can streamline healthcare processes, significantly improving efficiency, accuracy, and cost savings. Healthcare professionals can use RPA to free up time and resources, allowing them to focus on providing high-quality patient care.
RPA is particularly important for healthcare due to the significant amount of data and documentation that needs to be processed and managed. Healthcare providers generate massive amounts of patient data, including medical histories, test results, and insurance information. Managing and processing this data can be daunting, but with the help of RPA, organizations can automate these processes, freeing up staff time for more critical tasks. Moreover, RPA can help healthcare providers comply with regulatory requirements by ensuring all necessary documentation is completed and stored correctly. 
This blog post will provide an in-depth analysis of RPA in health systems, covering its statistics, benefits, and use case examples.
Let's dive into the world of RPA in healthcare and discover its impact on the health industry!
RPA Statistics in Healthcare
According to a report, the majority of patient appointments and bookings (88%) are carried out manually, which can result in delays of more than 76 days between a referral and an appointment.
Recent studies suggest that the healthcare industry spends an impressive $2.1 billion annually on poorly executed and error-prone manual tasks related to provider data management. Additionally, insurance companies incur expenses of $6 million to $24 million annually to address suboptimal provider data quality issues.
RPA plays a significant role in the healthcare industry, accounting for almost 30% of total RPA deployment. The high adoption of RPA in healthcare reflects its importance in optimizing complex and repetitive tasks, improving data accuracy, and enhancing patient care quality.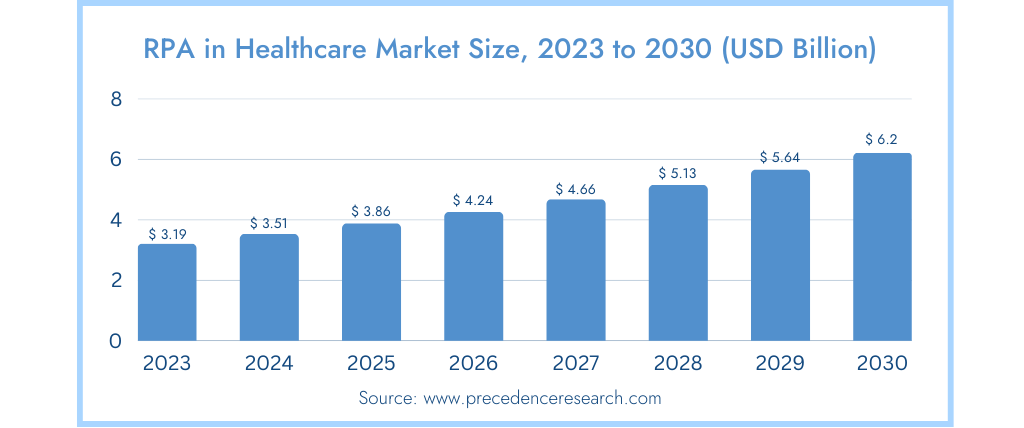 The Benefits of RPA in Healthcare
Adopting RPA in healthcare has significant benefits for healthcare organizations, including improving patient care, reducing operational costs, and enhancing workforce productivity. With the increasing demand for healthcare services and the growing complexity of healthcare systems, RPA offers an innovative solution to address the challenges faced by healthcare organizations.
Some of the key benefits of RPA in healthcare include:
15+ Use Cases for RPA in Healthcare
Simply put, RPA technology has a significant role to play in automating healthcare processes, from patient registration to insurance claims processing. By automating routine and repetitive tasks, health professionals can spend more time on patient care and complex decision-making. Moreover, RPA can help healthcare providers reduce errors, cut costs, enhance patient outcomes, etc.
As automation technologies advance, implementing RPA in healthcare is expected to become more widespread, paving the way for a more streamlined and patient-centered healthcare system.
If you're interested in experiencing the benefits of RPA in healthcare or any other sector, you may want to explore VooDoo RPA.
Our user-friendly platform allows you to easily automate repetitive and time-consuming tasks, freeing up more time for high-priority activities.
With VooDoo RPA, you can create custom workflows, integrate with other software and applications, and enjoy 24/7 availability.
Check out our Product Page.
Feel free to contact us with any questions you may have.